Color Ninjutsu Puzzle is an exciting game filled with action! Select blocks! Mix colors! Erase blocks! Do all three using ninja abilities called ninjutsu!
The iPhone/iPod Touch game application "Color Ninjutsu Puzzle" has been released at the iTunes AppStore!
monobyte Inc.
Head office: Fukui prefecture
President: Eiichi Miyagawa
monobyte Inc., creator of cellular phone applications, has officially released the iPhone/iPod touch game application Color Ninjutsu Puzzle in English and Japanese on September 10, 2009.
An Introduction of the Application
The objective of this challenging game is to link 3 blocks of the same color and make them disappear.
You'll rack your brain to come up with the best course of action that will win you the most points!
There are three exciting modes for a variety of gameplay!
SCORE ATTACK MODE - Earn points, points and more points!
MISSION MODE - Complete challenging goals!
BATTLE MODE - Play against a friend!
The SCORE ATTACK MODE is compatible with the network rankings.
Challenge the rest of the world for the highest score!
Screenshot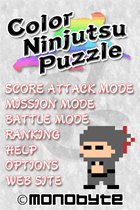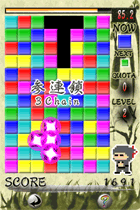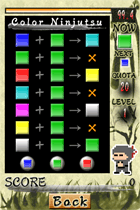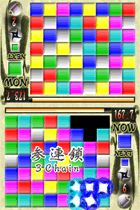 Detail
Category : Ninjutsu Puzzle
Value : $1.99
Model : iPhone/iPod touch
Requirements : Requires iPhone 2.2 Software Update
download

- iPhone and iPod are trademarks of Apple Inc, in U.S.A.