Color Ninjutsu Puzzle is an exciting game filled with action! Select blocks! Mix colors! Erase blocks! Do all three using ninja abilities called ninjutsu!
Color Ninjutsu Puzzle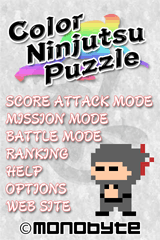 Category : Ninjutsu puzzle
Value : $1.99
Model : iPhone/iPod touch
Requirements : Requires iPhone 2.2 Software Update
Download is possible from here.

Basic rules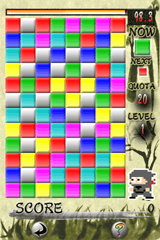 The objective of the game is to link 3 blocks of the same color and make them disappear.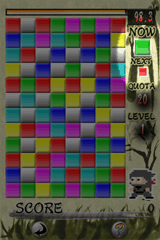 By selecting a block, you will gain a ninjutsu (a ninja ability) that will allow you to change its color by mixing it with the color shown on the right side of the screen under NOW.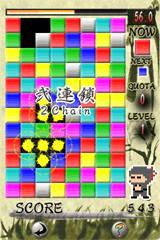 Use this ability to erase as many blocks as possible before time runs out.
Erasing blocks will cause remaining blocks to fall in their place. Think ahead to create a chain reaction and cause blocks to disappear consecutively.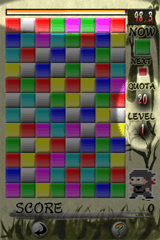 In SCORE ATTACK MODE, erase blocks until the QUOTA number reaches 0. You will gain levels and time will be restored each time the quota is met. However, the game will get more challenging as you progress.
Ninjutsu!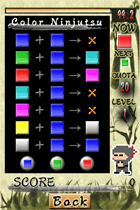 This is the color combination.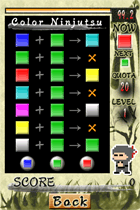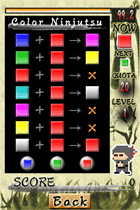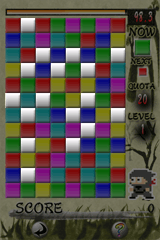 White blocks cannot be erased. However, creating white blocks will restore time.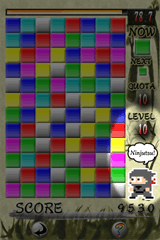 A special ninjutsu is unleashed every 5 levels. While this ability is active, only 2 blocks of the same color need to be linked for them to disappear.
network rankings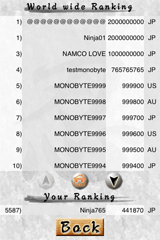 The SCORE ATTACK MODE is compatible with the network rankings. Challenge the rest of the world for the highest score!
There are three exciting modes for a variety of gameplay!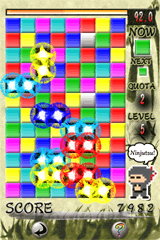 SCORE ATTACK MODE - Earn points, points and more points!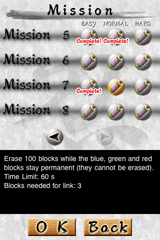 MISSION MODE - Complete challenging goals!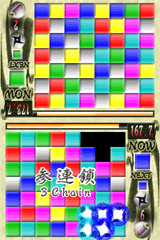 BATTLE MODE - Play against a friend!
Special thanks
Translation Assistance
Font
- iPhone and iPod are trademarks of Apple Inc, in U.S.A.