A brain stimulating game involving coloured shapes!
Touch Touch Shapes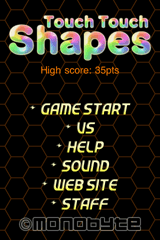 Category : Shape puzzle
Value : $0.99
Model : iPhone/iPod touch
Requirements : Requires iPhone 2.2 Software Update
Download is possible from here.

Cardinal rule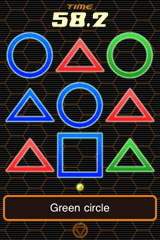 "Touch Touch Shapes" is a game of speed that requires you to touch the correct coloured shapes according to the instructions at the bottom of the screen.
Ex) Red square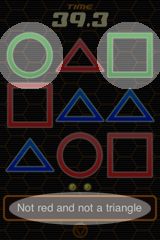 Ex) Not red and not a triangle
Clear condition and time limit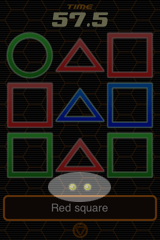 You have to touch the correct shapes on the screen.You can proceed to the next stage when all the shapes have been extinguished.
Your time limit will decrease when you select the wrong shape.Do your best within the time limit!
Level up!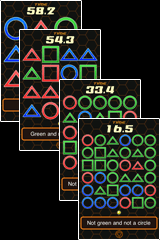 The number of shapes will increase with each stage.
VS mode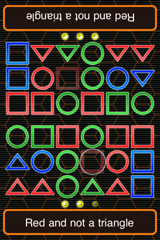 The match mode with a iPhone/iPod touch and 2 people is included.
Special thanks
Translator
Colin Johnston
Taisuke Fukuno
- iPhone and iPod are trademarks of Apple Inc, in U.S.A.