Let's mix in 30 seconds!
The iPhone/iPod Touch application "Mix Graffiti" has been released at the iTunes AppStore!
monobyte Inc.
Head office: Fukui prefecture
President: Eiichi Miyagawa
monobyte Inc., creator of cellular phone applications, has officially released the iPhone/iPod touch application Mix Graffiti in English and Japanese on July 03, 2012.
An Introduction of the Application
Let's mix in 30 seconds!
A mixture of two themes, let's draw a picture.
However, the time limit is 30 seconds!
"Rabbit + Pig"
That's easy!
"Gorilla + Penguin"
We can work it out.
"Hedgehog + Peacock"
Oh...
"Japanese monkey + Shiba Inu"
What!?
You can post to Facebook and Twitter.
Screenshot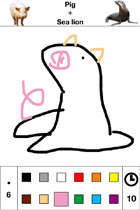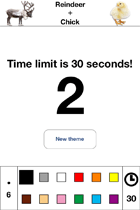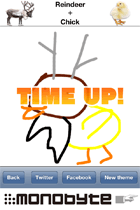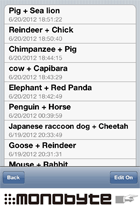 Detail
Category : Entertainment
Value : Free
Model : iPhone/iPod touch
Requirements : Requires iPhone 5.0 Software Update
download

Relevant Pages
[Information page]
- iPhone and iPod are trademarks of Apple Inc, in U.S.A.